ALC-Mobile
Breath alcohol tester for remote monitoring

ALC-mobile allows you to test anytime, any places and send results through cellular phone.

This system can be used for Commercial vehicles, and DUI court program (compliance monitoring program). This system records, when, where, and who did the test and provides a real-time check. As for reliability, using cellular phone enabled us to get GPS data and headshots of testers. Also, the test results can be easily managed on PC.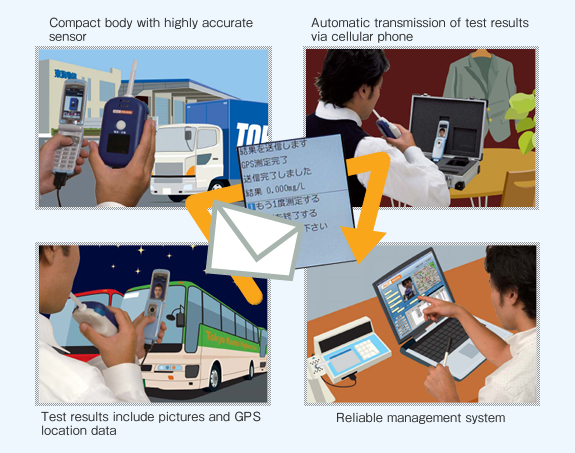 highly accurate alcohol testing with portable breath alcohol tester

ALC-Mobile is light, compact, but tough which is suitable for carrying around. In the transportation business, drivers go different places and hard to check each drivers. By using ALC-Mobile, managers can check the results of alcohol test on PC
Real-time alcohol testing is available by sending results automatically via cellular phone.

At any time in any place, including home (DUI court Alcohol monitoring), in-car, hotel, and parking area, application software installed in cellular phone will guide you to quick alcohol testing. The test results are automatically sent to manager or provider's PC. Therefore, drivers have no trouble with operation and the manager or provider is notified of the test results without delay.
Test results with pictures and GPS location data creates high reliability

The most important thing about alcohol testing is reliability of the test results. The ALC-Mobile attaches a picture of the test taker and GPS test location data to the test results, which clearly proves, when, where, and who did the test. In addition, the test results are automatically sent and cannot be tampered.
Each driver's test results are recorded on PC

An application software called "ALC-PRO plus" organizes all the test results coming from different drivers, and can be searched by driver, date and time. The test results are stored for one year and able to retrieve data from software.
Adobe Reader is required to view PDF files.

Download Adobe Reader