Tenko-PRO
Make a roll call (Tenko) from a remote location !
IT Drivers' management system for transportation companies

IT Drivers' management system for trucking companies with Business with Excellent Safety standards (G-mark) certification.
Roll calls face to face can be conducted with IT equipment instead of conventional methods. For safety and security of the trucking industry, This system provides a absolute evidence of drivers management in operations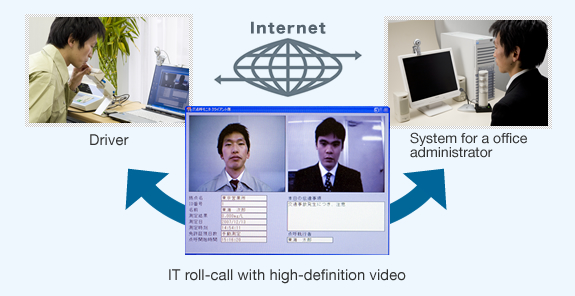 IT roll-call administration is available with 1.3 megapixels (only for driver), up to 24 frames per second high-definition video.
Video and sound are automatically recorded on the administrator PC.
General Internet connection (optical fiber link is recommended) is available. The running cost will not annoy you.
Automatic saving of alcohol testing and driver's license verification records on the administrator PC.

Alcohol testing data from the ALC-PRO II along with the photo images are sent to the administrator, which brings relief. As a matter of course, the data can be automatically saved and retrieved later. Connection with the optional driver's license reader allows simultaneous documentation of driver's license verification.
Stored videos and data can be retrieved and played back anytime.

The video and sound records of roll-call administration can be retrieved by date and played back to check. The video and sound of both the roll-call administrator, and the driver are simultaneously played back. The finest ever roll-call documentation is possible.
In addition, the roll-call records can be printed out or output as a data file.
Adobe Reader is required to view PDF files.

Download Adobe Reader